Press Releases
Corcept Therapeutics to Announce First Quarter Financial Results, Provide Corporate Update and Host Conference Call
April 26, 2023 at 4:05 PM EDT
MENLO PARK, Calif., April 26, 2023 (GLOBE NEWSWIRE) -- Corcept Therapeutics Incorporated (NASDAQ: CORT) today announced it will report first quarter financial results and provide a corporate update on May 3, 2023. The company will also host a conference call that day at 5:00 p.m. Eastern Time (2:00 p.m. Pacific Time).

Conference Call Information
Participants must register in advance of the conference call by clicking here.  Upon registering, each participant will receive a dial-in number, and a unique access PIN. Each access PIN will accommodate one caller.
Additionally, a listen-only webcast will be available by clicking here.
A replay of the call will be available on the Investors / Events tab of www.corcept.com.
About Corcept Therapeutics 
Corcept has discovered a large portfolio of proprietary compounds that selectively modulate the effects of cortisol and owns extensive United States and foreign intellectual property covering both their composition and their use to treat a variety of serious disorders. Clinical trials are being conducted with the company's leading selective cortisol modulators as potential treatments for patients with serious disorders – Cushing's syndrome, ovarian, prostate and adrenal cancer, ALS, post-traumatic stress disorder and liver disease. Corcept's drug Korlym® was the first medication approved by the U.S. Food and Drug Administration for the treatment of patients with Cushing's syndrome.
CONTACT:
Corcept Therapeutics
Investor Relations
ir@corcept.com
www.corcept.com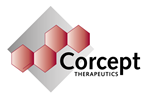 Source: Corcept Therapeutics Incorporated